Some Tips for Nigeria Fish Farmers to Maintain Fish Pond
2022-06-08
Precautions for raising fish in new fish ponds
1. Pond disinfection
Before stocking fish fry, fish farmers need to soak and clean the fish ponds with clean water, soak them for several days, then drain them and expose them to the sun for some time to remove harmful substances such as heavy metal salts. There is also a way to disinfect the fish pond, which is to sprinkle the whole pond with quicklime evenly.
2. Apply enough basal fertilizer
To ensure that there is sufficient natural bait in the pond, it is generally necessary to apply basal fertilizer to improve the fertility of the pond water and promote the reproduction and growth of plankton. The base fertilizer needs to be mainly based on pig, cattle, and other poultry manure. Fertilizer can be applied ten days before the seedling pond.
3. Put the fry
Before placing the fry, the depth of the pond should be 1.5-2m, the watercolor should be gray-white, and the transparency should be about 30cm.
4. Daily management
Fish farmers know that fish are prone to large-scale infection, so fish-related items such as feed tables and tools must be disinfected frequently to avoid diseases. It is necessary to clean up the weeds, remaining fish feed pellets, and other debris in the pond in time and replenish oxygen to prevent floating heads. In addition, Fish farmers should often observe fish activities, such as eating feed, to judge their physical condition.
Fish farmers can consider floating fish feed pellets, which not only facilitates them to observe the feeding of fish but also facilitates salvaging the remaining residual meal. It is not easy to sink to the bottom. LIMA, a Chinese professional company, is devoted to manufacturing-supplying floating fish feed pellet machines.There are different models of floating fish feed processing machines you can select. Lima company can also design unique machine based on your needs, don't be hesitate, please feel free to contact us.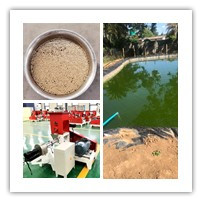 Back to List