What are the Types of Fish Feed Pellet?
2022-06-15
1. Dough and pie feed
It is a feed processed into powdered meals by spraying oil which can play the role of waterproofing and increasing energy, adding water and binders. The binder is mainly starch, which has good water stability and is suitable for cultivating shrimp and small fish.
2. Extruded floating fish feed
A special extruder process. A screw extrudes powdered feed under high temperature and high-pressure conditions. This feed has low density, good flotation, and less nutrient loss. It is the choice of most fish farmers.
Lima is professional floating fish feed making machines manufacturer, large small capacity (30kg/h-500kg/h)  floating fish pellet machines in stock, welcome to contact us.
whatsapp :+86 15617776885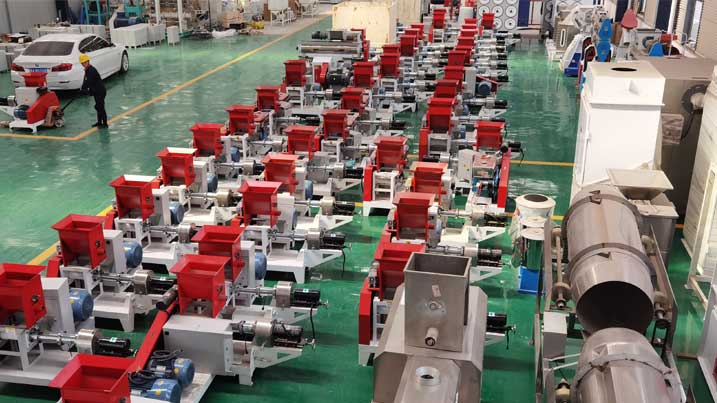 floating fish feed making machines in stock from Lima
3. Soft fish feed pellet
It is made by adding water to powder feed and pressing it through a pellet mill. It has high water content and is suitable for direct feeding after processing without storage.
4. Hard fish feed pellet
The hard pellet feed is made of powdered meals by stirring and mixing, adding water, and pressing by a die or extruding from a ring die after being heated by steam. The hard pellet feed is suitable for fresh feeding, which can save energy consumption.
LIMA, a Chinese professional company, is devoted to manufacturing-supplying floating fish feed pellet machines and poultry feed pellet machines. LIMA has successfully developed different fish feed pellet machines with advanced technology and and reliable performance. The puffed feed pellet through high temperature will kill such diseases as escherichia coli and salmonella, which can keep fish eating healthy food, digesting quickly, and making your fish grow fast. Moreover, the floating fish feed making machine produces different shapes and sizes of pellets from 1mm-12mm by changing the mold and feeding baby fish to big fish.

Back to List