Description
Fish Feed Making Machine used for aquaculture and pet food. For example fish, shrimp, dogs, cats, and so on. Just change mould can make different size and shape.

Machine features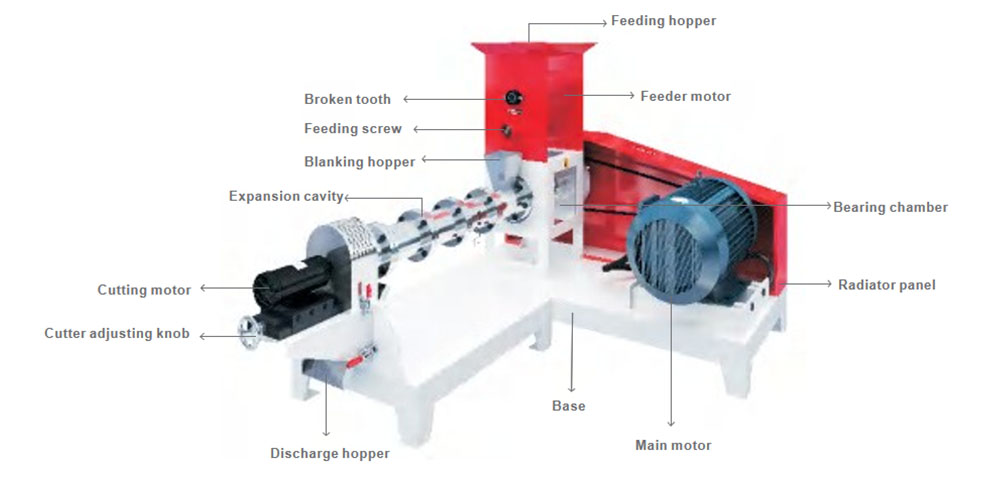 1. The screw is made of chromium alloy steel and undergoes special heat treatment. long service life and wear-resistant
2. The motor uses a standard pure copper motor that is stable and durable, and Siemens motors can be customized
3. The fuselage uses environmentally friendly spray technology to resist corrosion and not easy to rust
4. The machine body is made of high-thickness steel plate, strong and stable, not easy to damage
5. Can make different size from 0.8mm-12mm, suitable for different stage of fish
Why Choose Our Fish Feed Pellet Machine?
1. How about "Quality Assurance"?
All products have passed ISO9001, CE, PC, and SGS international authentication. Products are quality tested before shipment and have 1-year warranty. As a direct selling manufacturer, We guarantee the quality of our products and provide good after-service of the machine. and Nigeria we have a partner who can help you solve all your problems, in Abuja, we have a warehouse you also can go to check the machine.
2. Cannot install and operate?
We have engineers in different countries, whenever you need help, you can call them directly. and our engineer in China also could provide you with online guidance. We also have a detailed operation video and manual to assist you, We make sure your machine working very well 100%.
3. How can I know the status of my order?
We will send you photos and videos of your order at different stage in time and keep you informed of the latest information. Excellent service will be provided to remind each link in the whole process from the sea booking, shipping to the arrival of the products. and also can provide you with the shipping company website which you can follow at any time.
4. Worried that there is no guarantee for after-sales?
7*24 online service. Multi-channels to reach us at any time, including WhatsApp, Facebook, Skype, etc. All the emails and complaints will be replied to in 4h.
Customer Visit
Lima machinery company has cooperated with customers in nearly 100 countries, The main export countries are Asia: Philippines, Malaysia, India, Indonesia, Pakistan, Vietnam, Sri Lanka, and Bangladesh. Africa: Nigeria, Zambia, Tanzania, Uganda, Kenya, Algeria, Seneca, Cameroon
Lima machinery company not only sale online but also join exhibition all over the world Since 1998, the company's performance has gradually increased and it has exceeded 2 billion yuan.